FIX

Brickworks Support Systems
The
FIX

-bracket systems are used for the safe and effective anchoring of facing masonry or precast lintels.

The various types of

Bracket

anchor pick up the load of the masonry and transfer it to the load-bearing concrete walls, ceilings or joists.

The anchorage into the concrete substrate is carried out by building-approved

Achor Bolts

or

Anchor Channels

. Resulting horizontal loads are restrained with the aid of air layer or masonry ties. A rule of thumb is that it requires about 5-7 anchors per square meter of facing bricks.
The corresponding anchors are available in the system from HAZ.

Die Pla­nung ei­ner Mau­er­werks­fas­sa­de ist meist sehr um­fang­reich.
The planning of a masonry facade is usually very extensive. The project-specific requirements have examined more closely and local conditions are taken into account to the appropriate

Anchor Channel

to work for the particular application.

The arrangement of the expansion joints, inner or outer corners, window and door lintels or the need for additional insulation are often to clarify in order to realize the most effective fastening solution.

The
FIX Console Anchors

are available in the standard load levels of 3.5 kN, 7.0 kN and 10.5 kN, but with special project-specific requirements, it is possible to adapt the load ratings to the conditions. In addition, HAZ Metal also offers single-console anchors with a support plate and angle-bracket anchors. To assist in selecting the right console anchor, the company's technical department is available at all times.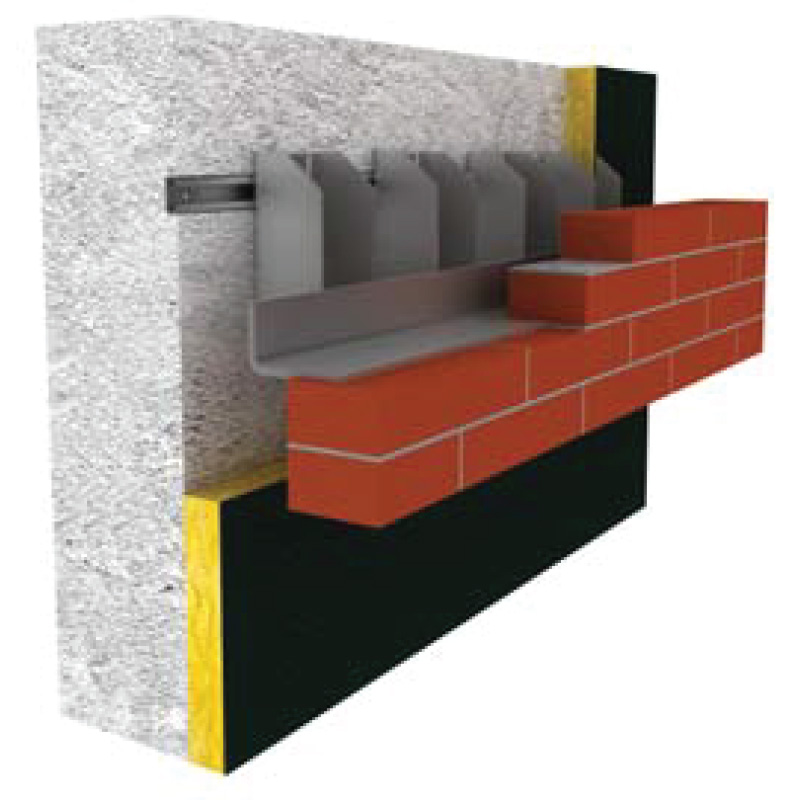 • Available types: FIX-U, FIX-UV, FIX-UT, FIX-P, FIX-PV,
FIX-W.
• Standard load levels 3.5 / 7.0 / 10.5 kN
• Easy attachment through adjustment profile
• High projections of over 350 mm possible
• Help with the selection of the right type by our technical department.
Available types FIX-F, FIX-FV.
Standard load levels 3.5 / 7.0 / 10.5 kN
Are used as a visible from below interception on doors and window openings
Angle lengths of up to 3,000 mm possible with appropriate arrangement of the console back.
Standard lengths 995 mm / 1,245 mm / 1,495 mm
Special copies after consultation with the technical department possible
Console Anchor for Precast Lintels
In addition to the above-mentioned console anchor types, HAZ also offers numerous other attachment systems. Please do not hesitate to contact us in this regard:
Attica veneer FIX-AV.
Scaffold anchor FIX-GA.
Disc anchor FIX-SA, tab anchor FIX-UO, mortar anchor FIX-MK.
Screw-on angle FIX-AW.
Bearing bracket FIX-W
Available types FIX-S, FIX-SV.
Standard load levels 3,5 kN / 7,0 kN / 10,5 kN.
Are used for the interception of brick-ready-falls, which are screwed from below to the perforated plates
Available in the system with suitable HMPR-ES loop rails or HAZ-SW finishing camber angles.
A masonry façade made of natural stone usually consists of a load-bearing inner wall made of concrete, an insulating layer and an outer wall, which can be used neither for supporting purposes nor for attaching other attachments, but merely represents a creative element and can also be used as protection from the weather ,

This outer wall, which usually consists of clinker bricks, must be supported at regular intervals.

The load of the masonry is transferred by means of bracket anchors to the inner load-bearing concrete wall, the attachment is made by special retaining anchors that connect the two wall shells together.