The Dowels and Anchor Bolts from the HAZ product portfolio are used for attachment of various components on holding tracks. A distinction is made between various different types of these dowels and bolt anchors, all of which bring certain properties, which make them the appropriate fasteners for a variety of substrates

The selection of suitable anchors is made according to the type of subsoil, depending on whether it is concrete, masonry, plaster or stone. The permissible load values depending on the load direction, whether tensile or shear load, represent the most important decision criterion.

The dowels and anchor bolts are tested in the factory test laboratory in order to determine correct values for tensile and transverse loads. The bolt anchors are available in different lengths to offer a suitable solution for the respective product specification.

Mainly these anchoring means are divided into four categories, these are



Force-controlled bolt anchor / expansion anchor
Distance-controlled bolt anchor / expansion anchor
Xings
Undercut anchors

All dowels and anchor bolts are available in grade 1.4301 and grade 1.4401 stainless steel and galvanized grade 1.0038 structural steel. Our technical department will gladly assist you in selecting the right types for your construction project.
Force-Controlled Bolt Anchor
Path-Controlled Bolt Anchor
---
Available in sizes M6 to M16.
For use in concrete, filled and reinforced block masonry
Available in sizes M8 and M10.
For use in concrete, block and normal masonry walls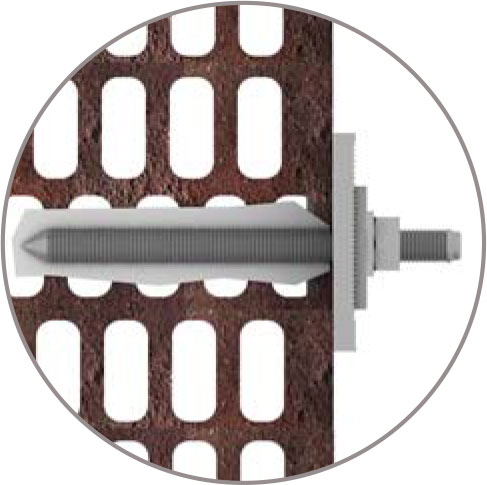 ---
Screwed bolt anchors
Use in combination with epoxy resin
Available in sizes M8 to M20
For use in concrete, block and masonry walls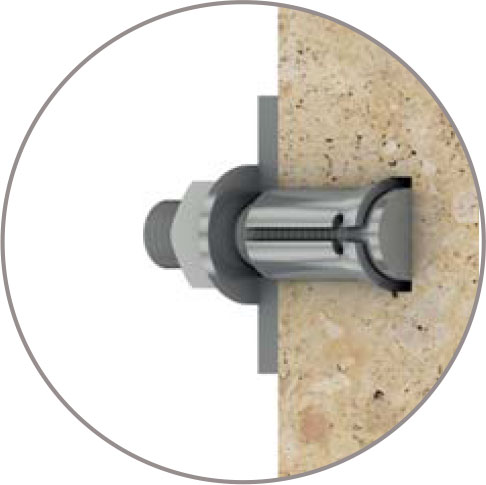 ---
For attachments to natural stone walls
Wet drilling system with matching drilling equipment is required
Innovative attachment variant
Detailed information can be obtained from our natural stone department
Concrete is made of cement and gravel, which is why this subgrade form places a special requirement on the bolt anchor.
The efficiency of the anchors depends on the respective compressive strength of the concrete.
The most common concrete grade is C20 / 25, which states a compressive strength of 25 N / mm2.
Brickwork consists of individual brick layers and is held together with mortar.
The brick walls can consist of hollow or solid bricks, which also depends on the selection of the appropriate anchor bolt.
Block walls are built from individual blocks and connected with mortar
Block walls can be built either with hollow or solid blocks
The choice of bolts largely depends on whether the blocks are hollow or full